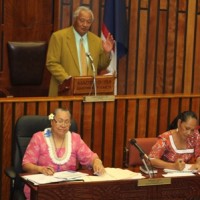 A bill which requires candidates wishing to run for the House of Representatives and Delegate to Congress to undergo a criminal background check has been introduced in the House by Mauputasi lawmaker, Faimealelei Anthony Fu'e Allen.
The bill mandates the Chief Election Officer to conduct criminal background checks for all candidates running for the American Samoa House of Representatives and Representative to the US Congress.
In an interview with Rep Faimealelei before he introduced the bill today,  he explained that the Fono represents the "deepest insight" and wisdom of the leaders who were chosen by their respective districts in Tutuila and Manu'a.
He said the community has high regard for the leaders who represent them in the American Samoa Legislature and what each lawmaker does in the Fono is a reflection of that "tofa mamao."
While Faimealelei is targeting candidates running  for the seats in the Fono, he says criminal background checks should also be done with all Fono employees .
The Ma'uputasi faipule said he's aware of Fono employees who have criminal records.
Speaker Savali Talavou Ale has assigned the bill to Legal Affairs and Judiciary Committee Chairman, Representative Toeaina Faufano Autele.
A hearing will soon be scheduled to discuss the bill.