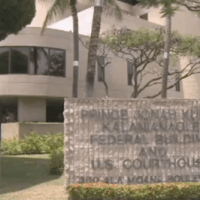 Attorney General Talauega Eleasalo Ale was present at a hearing in the Honolulu federal district court Monday relating to the territory of American Samoa's lawsuit against the US Government and federal officials over the amendment to the Large Vessel Protected Area.
The amendment, which went into effect last year, allows longliners of 50 feet and larger to fish within 12 miles from shore.
The crux of the lawsuit, according to ASG,  is that the change violates provisions of the Tutuila and Manua Deeds of Cession with the US.
American Samoa is arguing that the National Marine Fisheries Service, in changing the LVPA rule, failed to honor the US promise to protect local resources, as cited in the Tutuila and Aunu'u Deed of Cession in 1900 and the Manu'a Islands Deed of Cession in 1904.
This case is ripe for judicial intervention," ASG points out and notes that defendants "will continue to find the rights found in the deeds 'repugnant', until a court interprets our deeds and orders their cooperation."
The plaintiff contends that language in the deeds requires that NMFS consider Samoan customary practices and disapprove a regulation inconsistent with the perpetuation and protection of these customary practices as provided .
ASG says the defendants had argued that the deeds are not "applicable law" citing NMFS' Operational Guidelines list of "other applicable law" considered by NMFS in the decision-making process.
The Operational Guidelines do not list the deeds as "other applicable law" however, this list is not exhaustive and contains only those federal statuses and executive orders that are frequently raised during a regulation challenge.
Governor Lolo Moliga was emphatic at his first cabinet meeting for the new administration that American Samoa will fight hard against NOAA in this case, because they have no right to tell us what we can and cannot do in our own waters.
ASG is represented by the law firm of Imanaka Asato.
Attorney General Talauega and assistant legal counsel in the Governor's Office, Alema Leota, are joining the plaintiffs legal team.