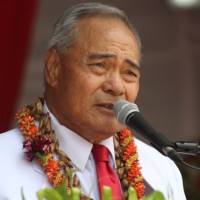 It appears that some directors have not heeded Governor Lolo Moliga's directive to close all bank accounts which departments and agencies are maintaining on their own, without the treasurer's oversight.
So before he left for off island meetings last night, Governor Lolo issued a memo again instructing directors to close any private accounts they have.
The February 13 memo states: "A directive was issued some time ago instructing all directors to close all bank accounts maintained separately by the department.
"It has come to my attention that some of you have not heeded the content of this policy.
"Accordingly, the articulated policy calling for the closure of all bank accounts managed by your agency is reaffirmed.
"There is no exception to this policy.
According to the memo, "The American Samoa Government has one Treasurer. who is authorized by law to maintain all government funds.
"To this end, the balance of the funds in the account is to be transferred to the Treasurer to be kept in the appropriate government accounts ensuring proper custody of said funds.
"All separately maintained bank accounts are to be closed forthwith, however in the event time is required for the closure process to run its course, February 28, 2017 is the date at which all these independent bank accounts will cease.