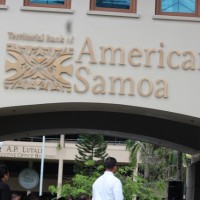 A bill introduced in the House of Representatives today grants the government bank,  the Territorial Bank of American Samoa trust powers which will allow it to expand it services for the community and generate revenue.
At present TBAS does not offer trust services, but accordng to the measure, granting TBAS this authority would generate more revenue for the bank.
It will allow to act on behalf of parties to, among other things, manage real and personal proterty, act as executor or administrator of estates, and deal as an agent in stocks and bonds.
The proposed law gives the bank the power to conduct, receive and hold in trust, property both real and personal for individuals, firms, companies, associations, corporations of other entities.
The bank can also accept and execute trusts of every description that may be committed to it by any person, executor, and administrator.
Speaker Savali Talavou Ale has assisgned the bill to the Chairman of the House Commerce Committee Rep. Samuel Ioka Ale Meleisea.