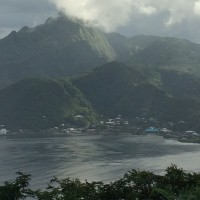 The apparent murder of a navigator on board a vessel docked in Pago Pago Harbor has come as a shock to the close knit fishing fleet.
Commissioner of Public Safety Le'i Sonny Thompson would only confirm the death of a fisherman on board a boat, but information gathered from KHJ News shows that the deceased was found dead on board the vessel American Eagle.
It's believed that his neck had been slashed.
Nearly all of the crew of the vessel, mainly Vietnamese and Taiwanese, were taken in for questioning at the police station yesterday.
The local agents for the vessel is KS Shipping.
A veteran stevedore agent was shocked to hear about the apparent killing.
He said such a heinous crime is uncommon for this port which is  relatively peaceful and friendly.