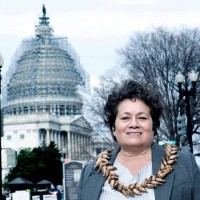 The territories will have a voice in President-elect Donald Trump's transition.
KHJ News Washington D.C. Correspondent Matt Kaye reports:
Vice President-elect Mike Pence met after the election with Congresswoman Aumua Amata Radewagen—the only Republican delegate to Congress.
It was there, that Radewagen's expertise on island issues and possible role as an adviser to the transition team became clear.
Reports of that role began surfacing last week, but it wasn't until the middle of the weekend, here, that Radewagen issued a statement.
Radewagen says she and the Vice President-elect discussed an advisory role, and she later spoke with the transition committee's vice-chair, Tennessee Congresswoman Marsha Blackburn.
According to American Samoa's freshman Congresswoman, there was some discussion about current presidential executive orders, some of which have hurt American Samoa's fishing industry.
Play Audio
Radewagen's command of island issues and her political credentials, no doubt led to Pence's appointing her to the Presidential Transition Team Executive Committee.

Radewagen was a Trump delegate to the GOP National Convention and the highest ranking elected Republican official of Asian Pacific American heritage.

The Congresswoman also served on former President George W. Bush's Advisory Commission on Asian Americans and Pacific Islanders, and is current Vice Chair of the House Natural Resources Indian, Insular and Native Alaskan Affairs Subcommittee.

Committee Vice-Chair Marsha Blackburn says the decision to appoint Amata advances President-elect Trump's campaign commitment, "to not forget the territories, once elected."

The Trump Transition Committee includes a number of other members of Congress, incoming White House Chief of Staff Reince Priebus, and First Daughter Ivanka Trump.

Tags: