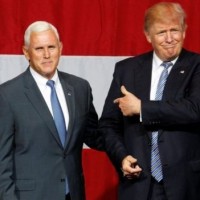 Congresswoman Aumua Amata Radewagen met with Vice President-elect Mike Pence Thursday and urged the incoming US administration to rescind President Obama's executive orders creating marine monuments in the Pacific, seen as damaging American Samoa's tuna industry.
KHJ Washington Correspondent Matt Kaye reports…
Incoming Vice-President Mike Pence paid a courtesy visit to Capitol Hill, meeting with members of both parties.
Congresswoman Aumua Amata Radewagen made clear the need for President-elect Donald Trump to rescind President Obama's executive orders creating and expanding the Pacific Remote Islands Marine National Monument…
Play Audio
The Remote Islands Monument is the largest marine protected area in the world…encompassing important commercial fishing areas key for American Samoa's fishing industry.
Play Audio
Meantime, Radewagen will press the new administration for American Samoa's fair share of new infrastructure dollars President-elect Trump has promised to modernize the nation's outdated highways,airports and hospitals.
And Radewagen says federal air service restrictions could soon be lifted in American Samoa…
Play Audio
The Senate bill's provision like the House bill, reforms air service restrictions, making it easier for foreign air carriers to transit between the islands of Tutuila and Manu'a.

Foreign carriers would not have to renew their US waivers within American Samoa for 180 days, versus every 30-days, now.

Tags: