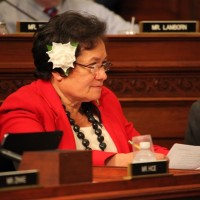 Congresswoman Aumua Amata says our people should give President-elect Donald Trump a chance.
The Republican congresswoman,  who was re-elected in a landslide vote last Tuesday predicts that with a Republican president, and a House and Senate controlled by the same party, the territory would fare well.
Aumua returned to Capitol Hill on Friday.
A bill that is coming up for a House vote before Congress adjourns is the cabotage bill.
Also on Aumua's radar is keeping Tri Marine International here.
In a phone interview with Aumua this morning, she gave her thoughts about the US president elect.
Play Audio
Tags: