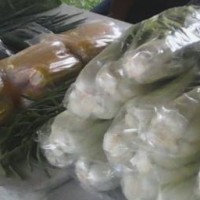 The Department of Agriculture is suspending until further notice locally grown vegetables for the School Lunch Program except for hydroponically grown vegetables, as well as local taro, green and ripe bananas.
DOA is also banning the sale of all produce except those grown hydroponically.
Acting Director of Agriculture Peter Gurr has informed the Acting Director of Education Philo Jennings about the suspension for the School Lunch Program, in an October 25th .
In a separate letter dated today addressed to store owners/managers, restaurants and roadside stands, Gurr advised that the sale of all locally grown produce, will be suspended.
The only exception is hydroponically grown vegetables , local taro, green and ripe bananas.
Gurr explained that during routine farm inspections this month, Agriculture compliance officers uncovered numerous violations by local farmers.
He described the violations as very serious and extremely hazardous for all vegetables supplied to the School Lunch Program and sold locally.
The violations include:
the use of toxic and foreign pesticides, the ones which don't have the Environmental Protection Agency's registration number;
use of non-EPA registered pesticides in fumigation
 post-harvest storage of vegetables and fruits in sealed containers in the field,
lack of toilet and shower facilities on some farms with sewage collected in cans; farmers in the recent past have used human waste as fertilizer, and crops were tested positive for E-coli.
use of fertilizers with foreign labels,
over use of fertilizers, application of chemicals without a certified pesticide applicator license and
falsifying farm coordinates.
Copies of the letter about the suspension of the supply to School Lunch and sale of local vegetables that are not organically grown went to Governor Lolo Matalasi Moliga, Director of Commerce Keniseli Lafaele, ASEPA Director Ameko Pato, Director of Health, Motusa Tuileama Nua, Chief Procurement Officer, Dr. Oreta M Crichton, and Manager for the School Lunch Program, Christina Fualaau.

Tags: