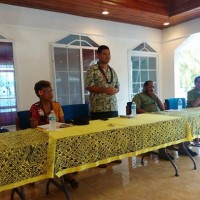 Foreigners who have been taxpayers and residents of American Samoa for more than 20 years should have the opportunity to vote in local elections.
That is one of the platforms of a candidate in the Tuala-uta House election, 25 year-old National Park ranger, Samuel Ioka Meleisea.
He says the American Samoa Government should consider this in recognition of the contribution made by long time residents who were born outside of American Samoa to the development of the territory.
Meleisea, who has roots in Afega, Samoa elaborated on his position for voting rights for non American Samoan permanent residents at a second forum for Tuala-uta candidates last Saturday.
Meleisea says people from Samoa, Fiji, the Philipines and other countries who have lived and made American Samoa their home for more than 20 years and have been paying their taxes should be able to cast ballots in local elections.
He says many foreigners have children born and raised here, many of whom have served the different branches of the military while their parents are working and paying taxes to the government.
Play Audio
The only other candidate who was at the forum on Saturday, Su'a Lucia Bartley, said there should be no taxation without representation.

Su'a, a military retiree, fully supports having foreigners who have lived here for more than 20 years have a voice in local elections.

Tags: