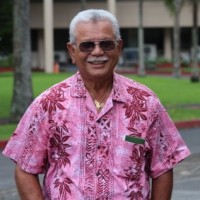 Statements by the governor's fisheries advisor at the meeting of the Western Pacific Fishery Management Council last week indicate that the territory missed out on an opportunity to earn money from allowing Hawaii to use our quota of big eye tuna catch.
During the public comment session which followed a report on American Samoa's fisheries activities at the Council meeting in Honolulu,  Governor Lolo's adviser on fisheries, Vaamua Henry Sesepasara, spoke up about the big eye quota transfer.
This allows Hawaii longliners to buy unused quota limits for big eye catch of the territories of Guam, Northern Marianas and American Samoa.
Vaamua said that the Lolo administration was not aware of the big eye quota transfer which was first carried out in 2011 and 2012 under the Togiola administration.
He said it wasn't until he, Vaamua, made a call to Eric Kingma, a scientist for the Council that he was briefed of the arrangement with Hawaii longliners.
The governor's assistant on fisheries said Americna Samoa was unable to make use of this opportunity in 2013, 2014, and 2015 but is thankful to the Council staff that an agreement was signed with the Hawaii Longline Association for 2016.
Vaamua expressed disappointment that the ASG representative on the Council was not present at last week's meeting to answer questions concerning fisheries activities in American Samoa.
Director of Marine and Wildlife Resources Dr. Ruth Matagi Tofiga did not attend the meeting but her office was represented by Dr. Domingo Orchaville.
Revenues received from the big eye quota transfers provides American Samoa with  funding for fisheries development projects .