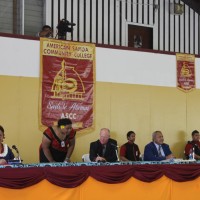 Candidates for the congressional race shared their platforms and answered questions posed by the Student Government Association, American Samoa Community College at a forum last Thursday.
All 5 candidates participated: incumbent Aumua Amata, Vaitinasa Dr. Salu Hunkin-Finau, Timothy Jones, Paepaetele Mapu Jamais and Meleagi Suitonu Chapman.
While the four challengers shared their plans on how they will help American Samoa if elected, Congresswoman Aumua Amata said that she was not going to make any promises as she's already there.
She directed the audience to her website to see all the "blessings" American Samoa has received since she was elected to the US Congress.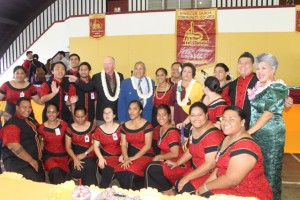 Amata, a Republican,announced that in 18-days she became part of the House leadership, something her predecessor, former Congressman Faleomavaega Eni Hunkin, a Democrat, could not achieve in the 18 years he spent in Congress.

Jones stated that the local economy needs a business plan which includes educating the territory on why its critical to invest in the fishing industry and energy saving initiatives.

Paepaetele believes that he can open additional doors besides the funding sources from the US Congress to carry out some of the critical needs for American Samoa such as a new hospital.

Former Director of Education and President of the American Samoa Community College, Vaitinasa Dr. Salu Hunkin, promised to work closely with local leaders.

For ASCC students, she promised to revamp the college's registration process and to make education more convenient for local students, via installation of satellite campuses so students from the east end of the island don't have to travel to Malaeimi but participate in class via teleconference from a satellite campus on that side of the island.

Suitonu Chapman, who is running for the seat for the second time told the audience that they are a group of fine candidates but she is the best to be their voice in the US Congress.

Tags: