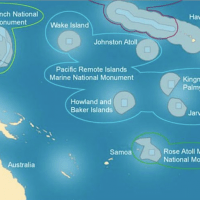 Key US Senators are trying to limit presidential power to designate sweeping national monuments on land and water—an issue that hit home with American Samoa's fishing industry in the last few years.
We go to our Washington D.C. correspondent Matt Kaye for the full story:
Senate Energy and Natural Resources Chair Lisa Murkowski and Arizona Senator Jeff Flake have introduced separate bills to curb presidential power under the 1906 Antiquities Act.
The law gives the president, sweeping power to designate hundreds of thousands of square miles of ocean and millions of acres of land, as national monuments.
President Obama established in 2009, and expanded in 2014, the Pacific Remote Islands Marine National Monument—the largest marine protected area in the world…covering 370,000 square nautical miles, and encompassing important fishing areas for American Samoa's fishing industry.
American Samoa's Congresswoman Aumua Amata Radewagen, during a recent debate on her successful "EnsuringAccess to Pacific Fisheries Act"—
Play Audio
Chairwoman Murkowski's bill—and a similar House bill Amata's co-sponsoring–require thepresident to gain congressional approval and notice from the governor of the state where a monument's located, that the local legislature has approved its designation.
And the president must comply with federal environmental law.
Neither the Interior nor Commerce Departments may restrict public use of a marine national monument, until after a public review period and congressional approval.
Arizona Senator Flake's bill would limit a president's power to reserve water rights in designating a national monument.
President Obama is expected to make more designations before leaving office.