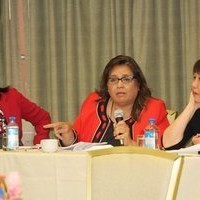 For the first time in the 25 years that the Pacific Judicial Council has been in existence, the organization of chief justices, judges and court officers is meeting in American Samoa for the first time.
The 30 off-island delegates from Guam, CNMI, Palau and the states of Pohnpei, Chuuk, Kosrae and Yap in the Federated States of Micronesia, are being hosted by Chief Justice Michael Kruse and members of the American Samoa Judiciary and staff at the four-day conference. 
The main topics on the agenda of this week's conference are mediation and human trafficking.
At an afternoon break on this second day of the conference,  Associate Justice Philip Carbullido of the Supreme Court of Guam, and Chairman of the Council's Education Committee, explained that human trafficking is occurring in nearly all of their jurisdictions
Play Audio
The presenter on human trafficking is former American Samoa Assistant Attorney General Suzanne Tiapula, a  graduate of Samoana High School and who is now a leading advocate of victims rights in the nation.

Associate Justice Carbullido says they are overwhelmed with the hospitality they've received and extended appreciation to Governor Lolo and the First Lady for their wonderful reception last night at Government House and Chief Justice Michael Kruse, members of the bench and staff for hosting a great conference.

Tags: