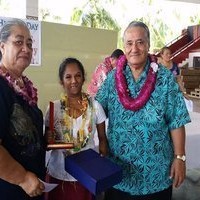 Tafuna High School senior Charu Joserose has clinched two first places in high school academic competitions this year:
She was the overall winner of the Territorial Science Fair and last week also topped the Amerika Samoa Humanities Council Annual History Day competition.
Charu who last participated in the History Day contest during her freshman year was happy to add another feather in her cap.
At the awards presentation Friday Charu, surrounded by her school principal, teachers and classmates who were cheering her on, explained her winning project.
Play Audio
Manumalo Baptist Academy 8th grader Ethan Langkilde, the overall winner of the Junior Division said that he is ready to tackle a possible opportunity to represent American Samoa at the national history contest.
Play Audio
The 2nd place overall winner was Emily Kennach of Manulele Tausala who entered a historical paper about "The Deed of Cession of American Samoa."
Claiming  3rd place was Manumalo Baptist Academy's Lynell Mareko who prepared a documentary  about Galileo.
Executive Director of the Amerika Samoa Humanities Concil, Taua Niualama Taifane said that the bar has been raised with the quality of projects entered this year.
Chairman of the Humanities Board Faiivae Iuli Godinet and board member Leo'o Vaa Ma'o presented awards at the Kananafou Gym to all the winners.