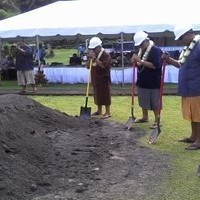 After decades of waiting and being patient with the condition of their roads and eroded coastlines, Alataua District residents can now breathe a sigh of relief as their roads are finally getting attention.
Leaders of the district, including Senator Faletagoa'i Tuiolemotu and Speaker Savali Ale Talavou, the longest serving member of the Fono, were joined by Governor Lolo Moliga and several directors at a ground breaking ceremony at Afao village.
This is where the 3-year infrastructure project for Alataua will begin,and the first job is Afao's $1.1 million shoreline projection and road embankment project.
Faleosina Voigt, Director of Public Works during her remarks pointed out that Afao was one of the villages which suffered severe damage in the September 29th tsunami.
The scope of work will include an 810 linear feet of tribar revetment, the only project of its kind in the district.
The $1,170,923.70 Afao project has been awarded to Samoa Maritime Company whose manager told district leaders at the groundbreaking, that they will try to finish off the work in 4 months instead of the  projected 8 months.
The U.S Department of Transportation (USDOT) Federal Highway Administration (FHwA) is paying for the project.
The design work was done by the United States Army Corps of Engineers (USACoE) with management by the Department of Public Works-Civil Highway Division (DPW-CHD).
Governor Lolo acknowledged the patience of district residents admitting that the delay of infrastructure jobs for Alataua district is due to the government's poor management of infrastructure projects.
He said that good things come to those who wait and wait  patiently.
Other shoreline projects for Alataua will be carried out in Amaluia, Asili, Fa'ilolo and Poloa. 
Landslide mitigation jobs are slated for Asili, Poloa and Failolo.

House Speaker, Savali Talavou Ale said that today's groundbreaking has lightened a burden… not so much to the district but to himself as it has been very hard seeing the whole district suffering from poor conditions of its infrastructure mainly the roads and shoreline.

He acknowledged the push from district Senator Faleotagoa'i I Tuiolemotu and district leaders.

He also acknowledged the support from the Governor and the Department of Public Works.

Tags: