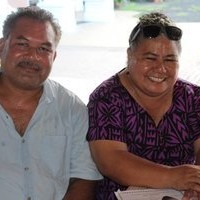 An American Samoan is joining the faculty for the National University of Samoa for the new academic year which begins Monday.
She is archaeologist Epi Suafo'a of Leone, currently the archaeologist for the American Samoa Power Authority.
Epi and was also the staff archaeologist for the National Park of American Samoa.
She will be taking up a year-long lecturer post at NUS, and she leaves to take up her assignment today
Epi says she was approached before to join the NUS faculty but was reluctant because the money and benefits were not the same as here.
When she was asked a second time, she said after some reflection on why she had been chosen, she decided to follow the example of Mother Mary, who was picked as the "handmaid of the Lord."
Epi says her secondment to NUS is under a collaborative effort between the university and ASPA.
Tags: