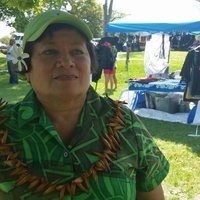 Seventeen students have been selected for nomination by Congresswoman Aumua Amata to the US military academies .
The congresswoman selected a Service Academy Nominations Board that reviewed applications and interviewed the applicants.
The board consisted of six veterans and active duty members across the armed services.
Applicants had to submit academic records, SAT/ACT scores, letters of recommendation, personal essays, and a report of extracurricular activities such as sports, clubs, part-time jobs and any other activity displaying the students' ability to lead and handle multiple responsibilities.
Congresswoman Aumua congratulates all the students selected for nomination. She said their hard work and outstanding records resulted in their selection by the board and she's very proud of their achievements.
A total of 39 applications were received from which 17 students were selected for nomination to the academies.
They are:
Aga, Fiasili (South Pacific Academy)- US Air Force Academy
Faimalo, Taulalo (Leone HS) -US Military Academy; US Naval Academy
Jennings, Kalala (Faga'itua HS) – US Military Academy; US Naval Academy; US Air Force Academy;
Lefiti, Uila (Samoana HS) – US Military Academy; US Naval Academy
Ma'a, John Jr. (Leone HS) – US Military Academy; US Naval Academy
Misitana, Miriama (Samoana HS) – US Military Academy; US Air Force Academy
Myung, Seung Ju(South Pacific Academy) – US Military Academy
Oh, Hyun Duck (South Pacific Academy) – US Military Academy; US Naval Academy; US Merchant Marine Academy
Ott, Bernadine (University of Utah) – US Air Force Academy
Pan, Jacob (Faga'itua HS)- US Air Force Academy
Poloa, Anesi (Leone High School) – US Naval Academy; US Air Force Academy
Tilo, Seaton (Air Force Academy Prep) – US Air Force Academy
Tua, Demilio (Kanana Fou HS) – US Military Academy; US Naval Academy; US Air Force Academy
Tulifua, Mutiatai (Mount Vernon HS) – US Naval Academy; US Air Force Academy
Tupua, Fuianiga (Nu'uuli VOTEC HS) – US Merchant Marine Academy
Ve'e, Taufagalupe (Faga'itua HS) – US Military Academy; US Naval Academy
Voigt, Tuanei (Samoana HS) – Military Academy; Naval Academy; Air Force Academy; Merchant Marine Academy
Tags: