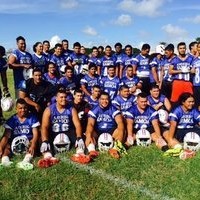 When the All Star High School football team from American Samoa plays the team from Northern California tomorrow it will be the first time that a territorial high school football team will play in an off island meet.
Originally there were plans to move the Samoa Bowl to Honolulu however because of lacking organization on the Hawaii end, the Department of Education Sports Division accepted an invitation from the Junior Prep Sports organization to participate in the 2016 Hawaii Classic.
Our senior all star players will face teams from Hawaii and Northern California and scouts and recruiters will be on the prowl at Aloha Stadium.
The only media traveling from the territory to cover the event is Southseas Broadcasting Inc.
Our crew John Raynar, Sia Atofau and LJ Solo along with General Manager Joey Cummings will be calling the games live from Honolulu.
Tags: