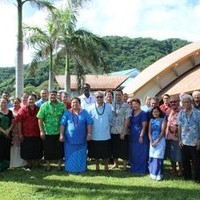 At last month's meeting of the Joint Samoa Task Force for Economic Integration, the American Samoa delegation asked that Polynesian Airlines reconsider its freight charges.
KHJ News asked Polynesian CEO Seiuli Alvin Tuala about whether the airline would consider reducing their freight which is now $5 a kilo.
He responded that Polynesian looked at the situation thoroughly prior to making the change.
According to the CEO, Polynesian has not raised freight rates for seven years and in the meantime they are faced with increased costs for replacement parts and the wear and tear on aircraft.
Seiuli said they have tried to keep costs down but are suffering as a result.
Other than visitors most travelers on the inter Samoa route are relatives and friends attending family events such as funerals, weddings, matai title bestowals etc.
As tradition dictates they carry alot of foodstuff and other cargo aside from personal effects.
According to the airline CEO, offloads and the time it took people to get their offloaded bags was unacceptable from a customer service point of view.
He said since the luggage limits and increase in freight, Polynesian has a clear flow of people and their bags and freight.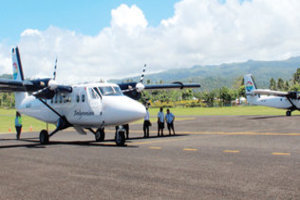 Another factor that Polynesian considered is safety,

Seiuli explained that the hike in freight charges is only to cover increased costs for parts, maintenance and operating an aircraft to clear all the freight.

He said, "We do not see the increase as an unreasonable increase, it is a necessary increase to ensure that goods and people are carried safely at all times.

Tags: