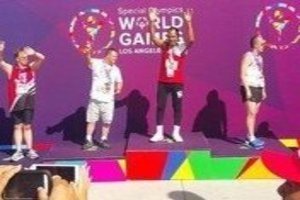 And the gold goes to Justin Lutu of American Samoa.
Justin, son of Senator Afoa and Mrs Etenauga Lutu of Utulei was awarded the gold medal in the 100 meter race at the Special Olympics World Games in Los Angeles today.
Justin was awarded the gold after the runner who crossed thefinish line first was disqualified.
Justin had his parents, siblings, nieces, nephews and other relatives cheering for him in the stands, along with the rest of Team American Samoa at the World Games.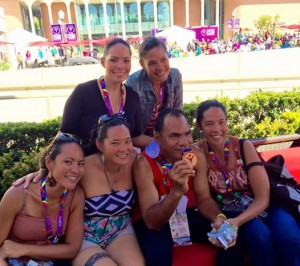 President of Special Olympics Amerika Samoa Tafaimamao Tupuola says it was an exciting day for the team when Justin was presented the gold medal.
Schcymindarin Naidu missed winning the bronze medal by just 3 milliseconds.
He placed fourth in the 100 m race.
In soccer, it was a tight game between our team and the Philippines.
After each team scoring back to back goals, the Philippines managed one more goal to win the game, 4-3. So the Philippines won the bronze medal.
Tomorrow Schcymindarin Naidu, Justin Lutu, Lesina Falaniko, and Lauren Meredith will compete for the 4 x 100m relay.
Brian Vitolio, the coach for our Unified Soccer Team is selected as a coach to walk in the closing ceremony parade with an athlete.
Tupuola says an athlete from Team American Samoa has yet to be selected.
.
The closing ceremony will be aired on ESPN on Sunday.
Tupuola says our team has had some great support at the Games.
Our cheerleaders include 7 Samoan students from UCLA and the Tuioti Mariner family,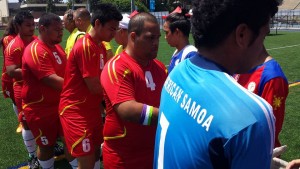 Our team has also been one of the most photographed as spectators have asked to take photos with our team in their colorful uniforms.
They're also attracting the media's attention.
ESPN has featured Justin Lutu and the more than 30 members of his family who have made the long trip from American Samoa to see him perform on the world stage.
The network should be showing the highlights today or tomorrow morning.