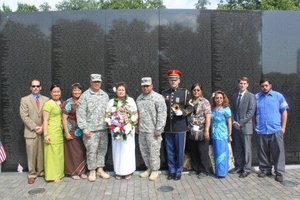 On Monday in Washington DC, Congresswoman Aumua Amata honored a fallen American Samoan soldier by placing a wreath at the Vietnam War Memorial.
In a statement submitted for the Congressional Record, Amata said, "Mr. Speaker, I rise today in memory of Staff Sergeant Faleagafulu Ilaoa, who lost his life while serving our great nation."
Staff Sgt. Ilaoa, whose parents hailed from the village of Leone, was born on April 6, 1948, in San Francisco, CA.
Amata said Ilaoa spent his youth like many of us do…dreaming of one day serving his country in our Armed Forces.
After high school graduation, Ilaoa joined the Air Force as a Military Policeman.
Amata said these men not only serve as police officers to their fellow service members, but also participated in rescue operations, often in hostile territory.
On Monday, May 13, 1975, the U.S. merchant ship Mayaguez was seized by Khmer Rouge forces off the coast of Cambodia.
The following evening a rescue operation to save those on board the merchant vessel was launched by the Air Force's 56th Security Police Squadron (SPS).
At around 8:30 in the evening, on route to the Mayaguez, the Chinook helicopter carrying the 23 security police operators, including SSGT Ilaoa disappeared from radar approximately 40 miles from their base in a remote area of Northwest Thailand. To this day, the cause of the crash, whether it was mechanical malfunction, pilot error or enemy fire, is not known.
Amata said, "Mr. Speaker, I ask all Members of the U.S. House of Representatives to join me recognizing the sacrifice of all who lost their lives on this mission and I personally would like to salute SSGT Ilaoa for his service to our nation and the proud legacy he left for all American Samoans."