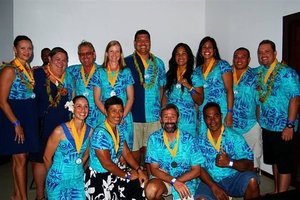 A paddling team from American Samoa took 2nd place in the 2015 BlueSky Savaii Crossing that was held this past weekend in Samoa.
Four teams competed in what is considered the most challenging outrigger canoe race in the two Samoas.
The Savaii Crossing is a 27-mile outrigger canoe race that starts in Mulifanua, on Upolu island and heads out to Salelologa, Savaii and back to Mulifanua.
Team Amerika Samoa, the only team from off island to compete in this year's
crossing, finished in an impressive 4 hours and 10 minutes, only 2 minutes and 23 seconds behind first place which was claimed by Alotasi Pasifika.
Ohana and Aolele, both from the Pualele Outrigger Canoe Club, finished 3rd and 4th respectively.
Team coach and co-captain Paula Stevenson-McDonald said she is very proud of the team's performance and strong finish.
She said she was confident going into the race that the team would perform well.
Stevenson-McDonald added, "We trained for 3 and a half months and every paddler showed the necessary commitment to compete at a very high level.
"Everyone on the team should be very proud, as should our families, friends and local community. The team represented American Samoa very well!"
Pualele Outrigger Canoe Club President Joshua Lutu expressed appreciation to the American Samoa paddlers for their pariticipation.
At the awards banquet, which was held later that day, he expressed his club's gratitude to American Samoa.
He said, "We are so grateful for American Samoa's continued support of our
race. While we are two separate governments, we are one people and the
support we receive for our race is very much appreciated."
Pualele Outrigger Canoe Club is the organizer of the Savaii Crossing race.
Since the Savaii Crossing began 6 years ago, the American Samoa Association of Paddlers (ASAP) has followed the race development strategy closely and has continued to work collaboratively with the organizers to ensure a successful race.
ASAP Secretary Josie Malepeai Lealasola said the development of annual races in the region such as the Savaii Crossing cannot gain momentum without the participation of paddlers to make the race competitive, so ASAP is proud to support this unique race between the islands of Upolu and Savaii.
Stevenson-McDonald believes this year's Savaii Crossing race and the strong
performance of Team Amerika Samoa will play an important part in the continued development and growth of outrigger racing in American Samoa.
She said sending teams off island to compete is a great way to grow our sport locally.
Equally important is the development of local races that occur on a consistent basis.
The team coach said, " Ultimately, we would love to entice teams from Samoa, Hawaii, Australia, California and beyond to come to American Samoa, the heart of Polynesia, to race and experience our sport here."
Other members of Team Amerika Samoa are cocaptain John Goeke, Vito Lealasola, Michael McDonald, Hua-Hsien Wei, Tisepi Tupai, Marian McGuire, Luaao Wasko, Ipo Hemaloto, Sandra Lei Ho-Ching and Brenda Smith.